Get Certified on Vacation
Enjoy the warm water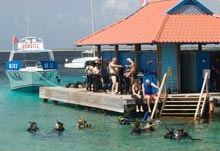 We've certified clients all over the Caribbean, why not you?!  If you've already taken your pool and classroom with another institution, why not let us certify you on your vacation with us?!  Or take your pool and classroom training with us, then come on one of our trips to get certified, and you're eligible for big savings!
Discover The Underwater World In A Supervised Setting
If you take the pool and classroom portion of the course with Tropical Adventures Travel, then come on a holiday with us, we'll certify you for free! That's a savings of over $200USD per person!
Quality Instruction
Highly trained, experienced instructors
Student/Teacher ratio of 4:1 or less
Pool/Classroom with us followed by certification on one of our trips leads to:

Familiar instruction
Familiar expectations
Familiar mannerisms
Comfortable learning environment
Very enjoyable learning experience!
Big savings!
If you're interested in getting your scuba certification on vacation send us an e-mail or call us at 780 809-3636 Ext 1.